Article No: P432.000
Urban is a 400ml mug which is ideal to use on your desk and to enjoy your coffee or tea. Registered design® Article No: P432.042
Trendy stainless steel geometric coffee tumbler with handle that fits easily under most coffee machines. The handle and inner are made of PP. Capacity 380 ml. Article No: P432.024
Closable, insulated and compact enough for under the coffee machine (227 ml). And very hygienic because the lining of the mug is made of stainless steel, not from plastic. Designed so that the mug is easy to take apart for recycling. Registered design® Article No: P432.347
The Boom is a 225ml leakproof, double walled travel mug for your hot or cold beverages on the go. The most surprising feature is that it?s designed to be completely dismantled at the end of its life-cycle for recycling. Show your commitment by disassembling and recyling each part for a cleaner world. Registered design®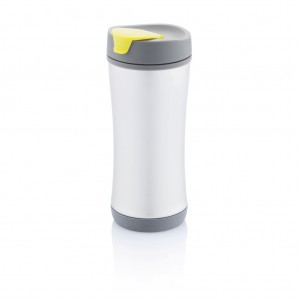 Article No: P432.395
400ml double wall and leak proof push mug. The easy push system allows you to open and close your mug with one simple movement. The silicone ring provides you with a steady grip of the mug. Article No: 19538305
Tazza termica Pasadena The indicated prices and product information are informative and we don't take any responsibility. Prices do not include VAT.