Products: Plastic kitchen equipments
Article No: 1PA07490
Ultra-fine vacuum cleaner, specialized in daily dust cleaning. The item is integrated with WIFI and app compatible. You can control all functions remotely from your mobile. The item is compatible with the Alexa voice assistant. Power 20 W. Suction power 350PA with a maximum of 1000PA. Automatic cleaning modes. Amazon Alexa voice assistant. Battery 2.000 mAh, 4-5 hours charging. Integrated anti-collision and anti-fall sensors. ABS Plastic, Metal.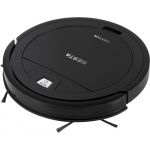 Article No: 3770-06
Flyswatter with a white handle and a hole in the middle to 'Give the fly a chance'.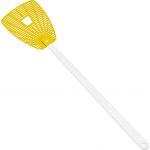 Article No: 7837-08
PP microwave cup (720 ml) with removable lid with locking clips.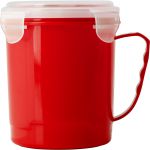 Article No: 7604-18
100% Recyclable plastic (HDPE) ice pack with cooling gel. Reusable by placing it in the freezer. HDPE is perfectly suitable for recycling after the ice pack has served its purpose for a longer period of time.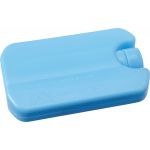 Article No: 7296-01
PP breakfast mug (450 ml) with separate compartment (150 ml) on the top. Including a matching spoon that is held in place by the lid.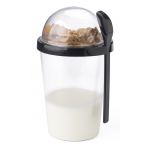 Article No: 8296-02
PP lunchbox.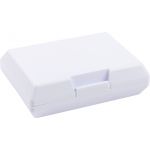 Article No: 3675-29
PP storage box for an apple.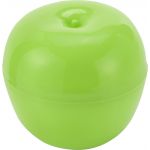 Article No: 7290-01
Steel pick up and reaching tool with PP handle.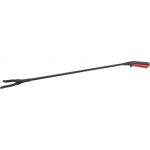 Article No: 6214-02
Plastic kitchen timer in the shape of an egg with a 60 minute duration.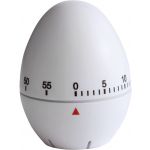 Article No: 6516-32
Plastic kitchen timer with minute and second modes and magnetic back. Batteries included.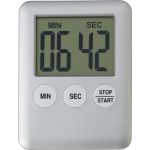 Article No: 4430-02
Plastic kitchen timer with minute and second modes, includes a magnetic back. Batteries included.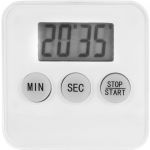 Article No: CX1489-05
Christmas silicone spatula with seasonal design and wooden handle.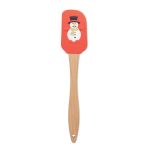 Article No: 6728-29
PP salad bowl with lid (1000 ml), a plastic fork on in the lid and a small, salad dressing container with approx. 50 ml capacity.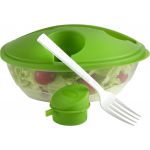 Article No: 11327962
The 250 ml Bio clip snack box from Amuse Plus is ideal for bringing along some snacks. It is made of 37% sugar cane, a sustainable and renewable raw material. A perfect eco-friendly alternative to traditional plastic snack boxes. On the side there is a sturdy clip that keeps the snack box closed securely when on the go. Dishwasher safe. BPA-free.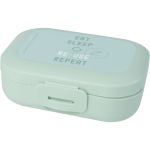 Article No: 8520-02
PP and silicone lunchbox with a capacity of 850 ml. The inside includes one separator. The closure on the lid doubles as a phone holder.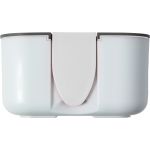 Article No: 966040-01
PP double layer lunch box with multiple compartments (2 x 400 ml) and bamboo lid. Including divider and plastic cutlery (spoon, fork, and knife), and elastic band.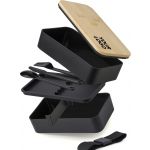 Article No: 7844-02
AS and PP lunchbox (920 ml) with transparent lid lined with silicone. Including separate, triangular compartment and fork.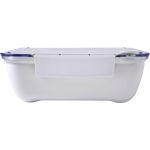 Article No: CX1490-05
Christmas cookie set. Including 1 silicon spatula with cookie man design and with wooden handle and stainless steel cookie cutter.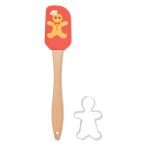 Article No: 11255000
Lunch box with snap closer hinges to keep lid secure and 2 handles for easy carrying. Volume is 750ml.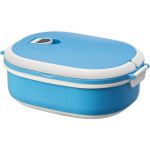 Article No: 11331162
The Cirqula rectangular bowl with a capacity of 1500 ml is perfect for storing or carrying large portions of soup, meat, or meal salads. Store food in the bowl in the fridge or freezer, warm it up in the microwave (lid must be removed) and serve your meal in the bowl (directly) on the table. The transparent window on the lid ensures that the contents are clearly visible. The innovative, flexible lid is airtight and leak-proof. This keeps food fresher for longer and makes it easy to bring food along. BPA-free. Maximum 110 degrees Celcius. Suitable for refrigerator, freezer, microwave, and dishwasher. 2 years Mepal warranty.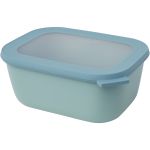 The indicated prices and product information are informative and we don't take any responsibility. Prices do not include VAT.