Products: Medical supplies
Article No: 2636-02
Plastic medical thermometer (°C) in a transparent plastic box. Batteries included. Article No: MO8023-17
Emergency blanket made in shiny silver PET. Helps retain body heat. Article No: 2414-01
ABS alcohol tester on a key chain, with a red LED light on top to be used as a torch, three coloured LED lights: green (ready), yellow (0,02%), and red (0,05%), a mouth piece on top and a key ring, batteries included. For promotional use.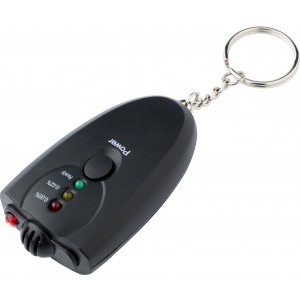 Article No: 12600500
Electronic alcohol breath analyzer. Analyses alcohol percentage by blowing into the device. Test results will be indicated by coloured LED lights. (As a promotional item this item should not be used as a true indication of actual alcohol levels). Requires 2 x AAA batteries (not included). ABS plastic. Article No: MO8426-06
Smoke detector in plastic casing with red operating light. Includes 2 screws for easy fixing. One 9 Volt battery included. Article No: MO7662-06
Analogue nurses watch with plastic tag for printing and polyester strap. Water resistant. 1 cell battery included. The indicated prices and product information are informative and we don't take any responsibility. Prices do not include VAT.