 Article No: 402397-18
Disposable, three-ply face masks with elastic straps, in a box of 50 pieces. The mask is type IIR, with a bacterial filtration of >98%. European standard EN 14683 certified. Not sterilized. Sold per box of 50 pieces, price per piece.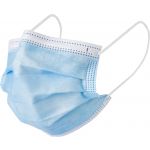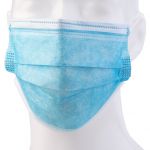 Article No: 629317-02
FFP2 particle filtering face mask that meets the EN 149 + A1 norm. Stops 94% of particles. With nose piece and close fit for comfort and protection. Sold in a box of 50 pcs. Each mask is individually packaged in plastic. Price per mask. Article No: 38701010
One-layer face mask. Washable at 60 degrees. Use of this mask is exclusively reserved for non-sanitary purposes. This device is not a medical device in the sense of regulation EU/2017/745 (surgical masks) nor is it personal protective equipment in the sense of Regulation EU/2016/425 (such as filtering masks type FFP2 or FFP3). This product is not suitable for medical use and does not protect against infections.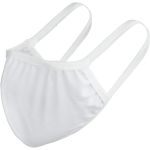 The indicated prices and product information are informative and we don't take any responsibility. Prices do not include VAT.