Article No: 7381-02
100% Polyester wellness set, with waffle design, consisting of: a bathrobe with front pockets, a wash cloth (approx. 30 x 31 cm), a pair of slippers with small anti-slip silicon dots and shower sponge. All folded together and tied with a matching ribbon. Article No: 7775-357
Fleece bathrobe with two sewn-on front pockets. Includes a belt loop in matching material of 178 x 4 cm.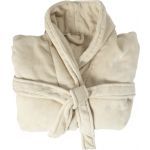 The indicated prices and product information are informative and we don't take any responsibility. Prices do not include VAT.